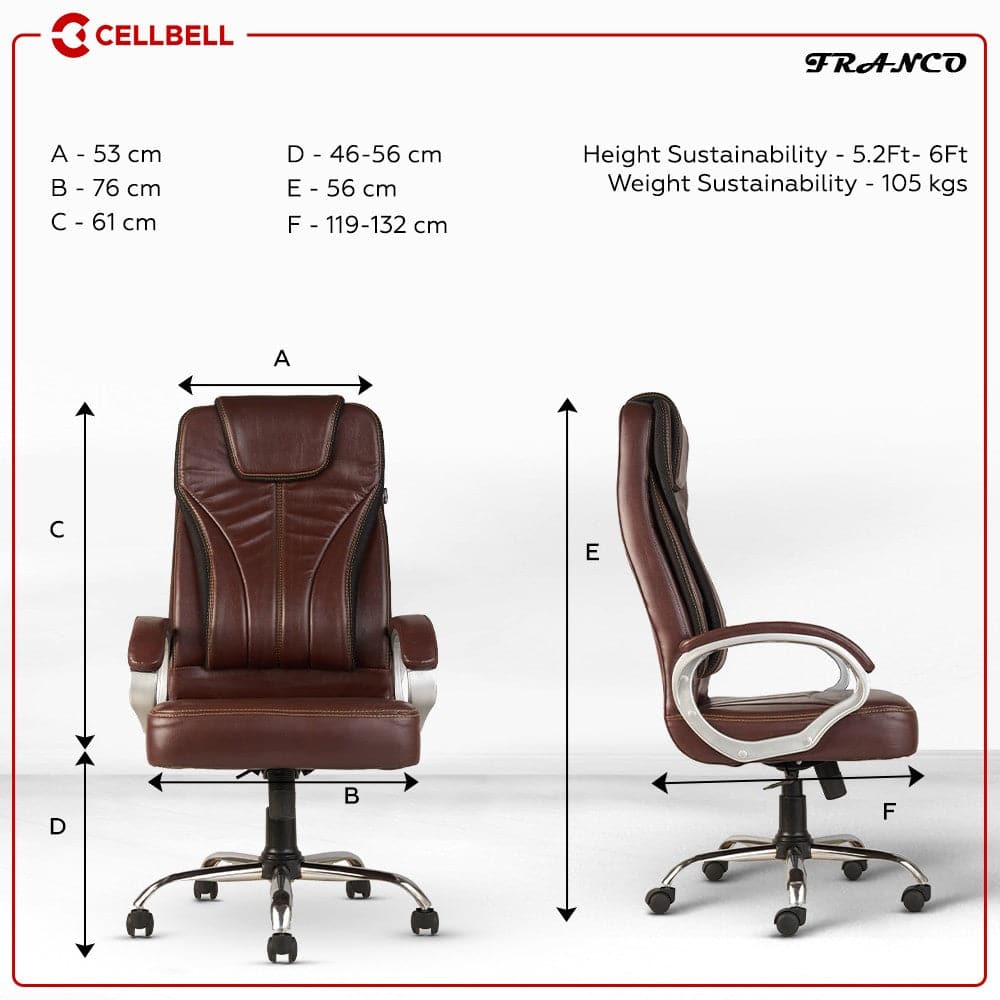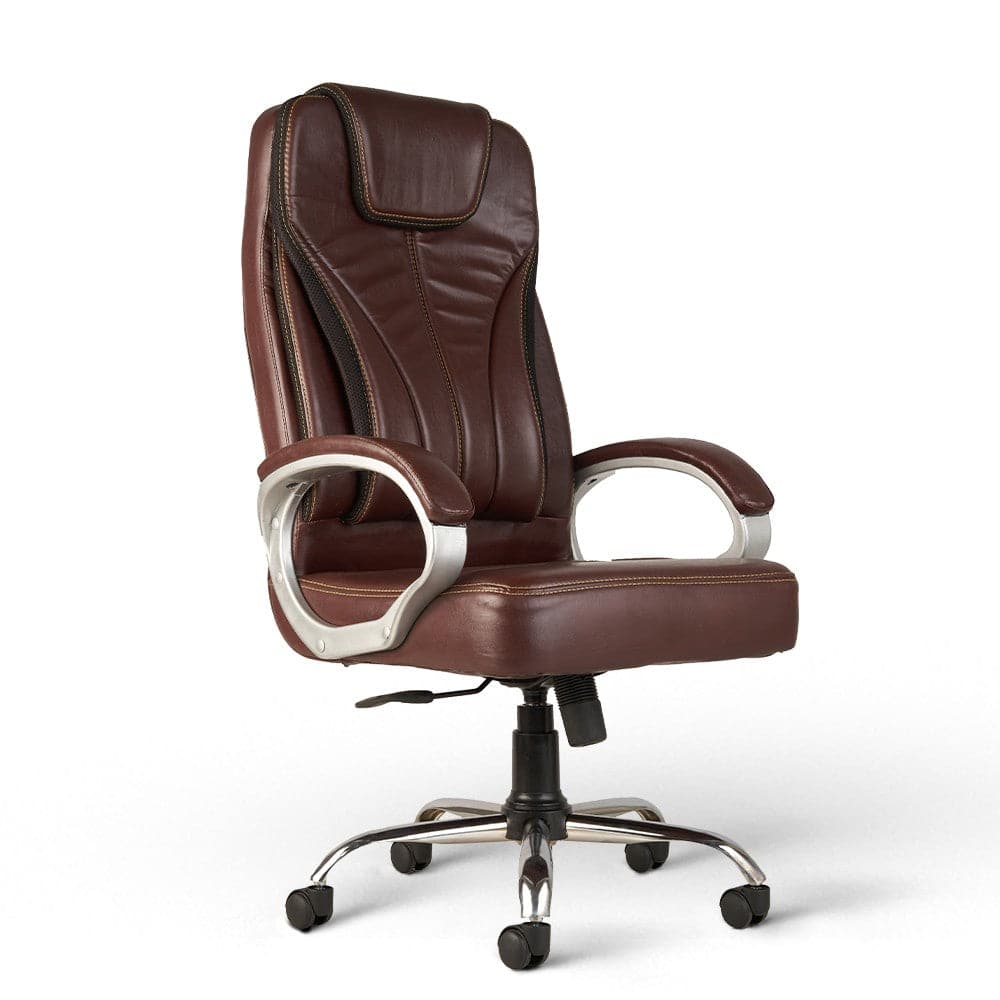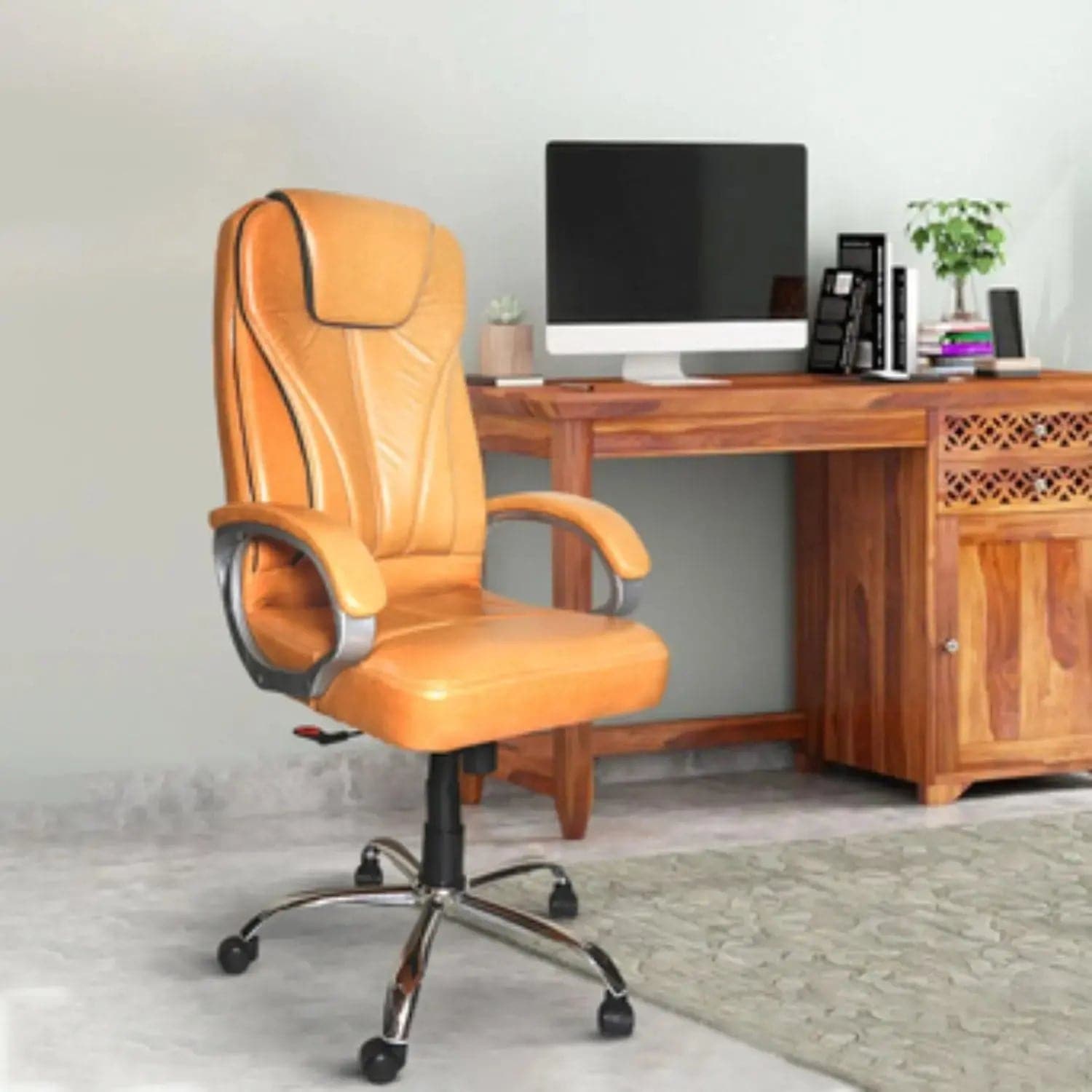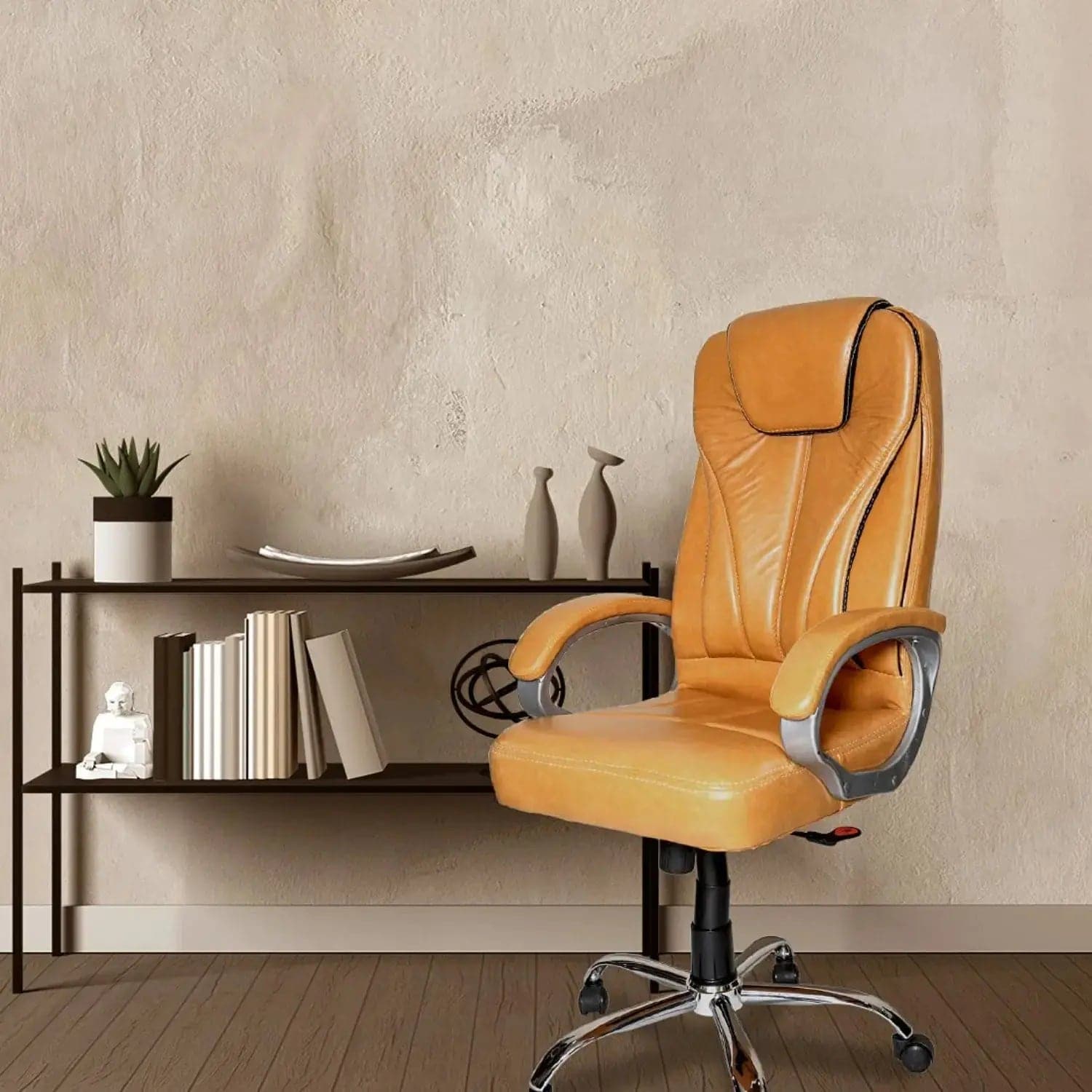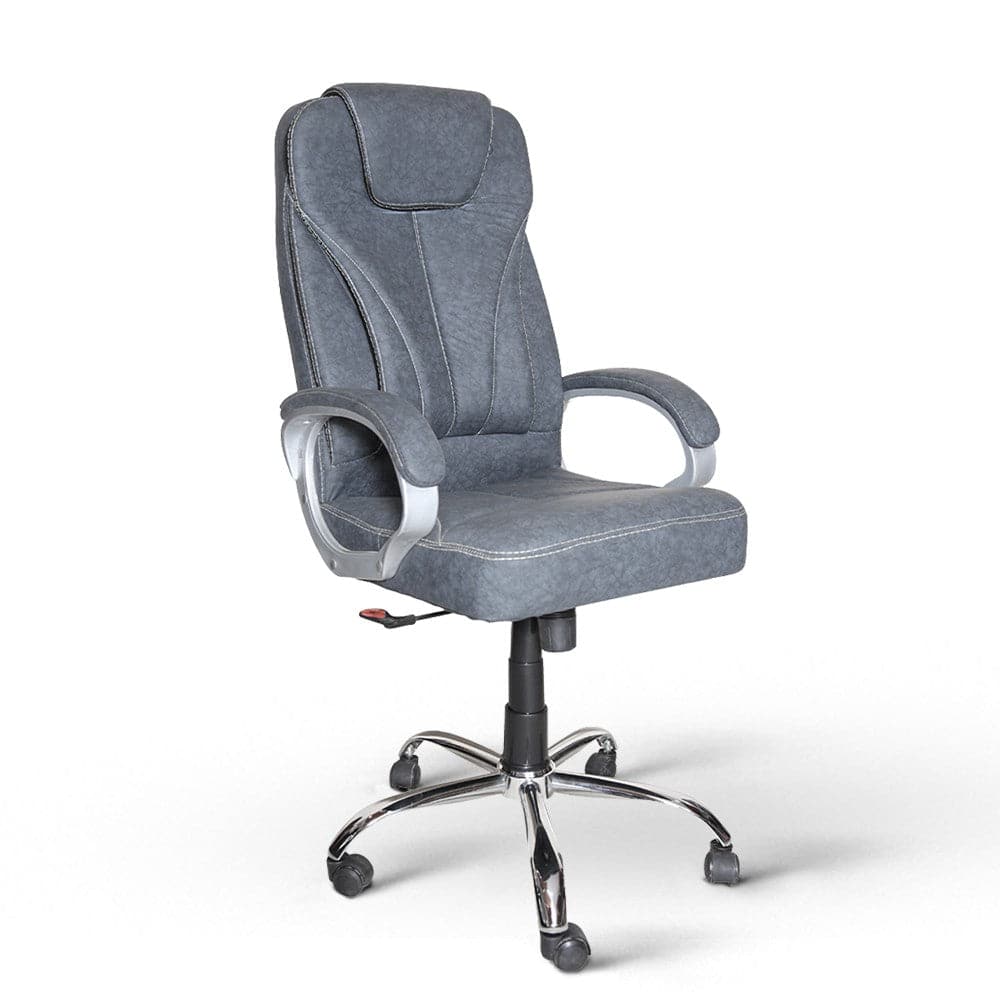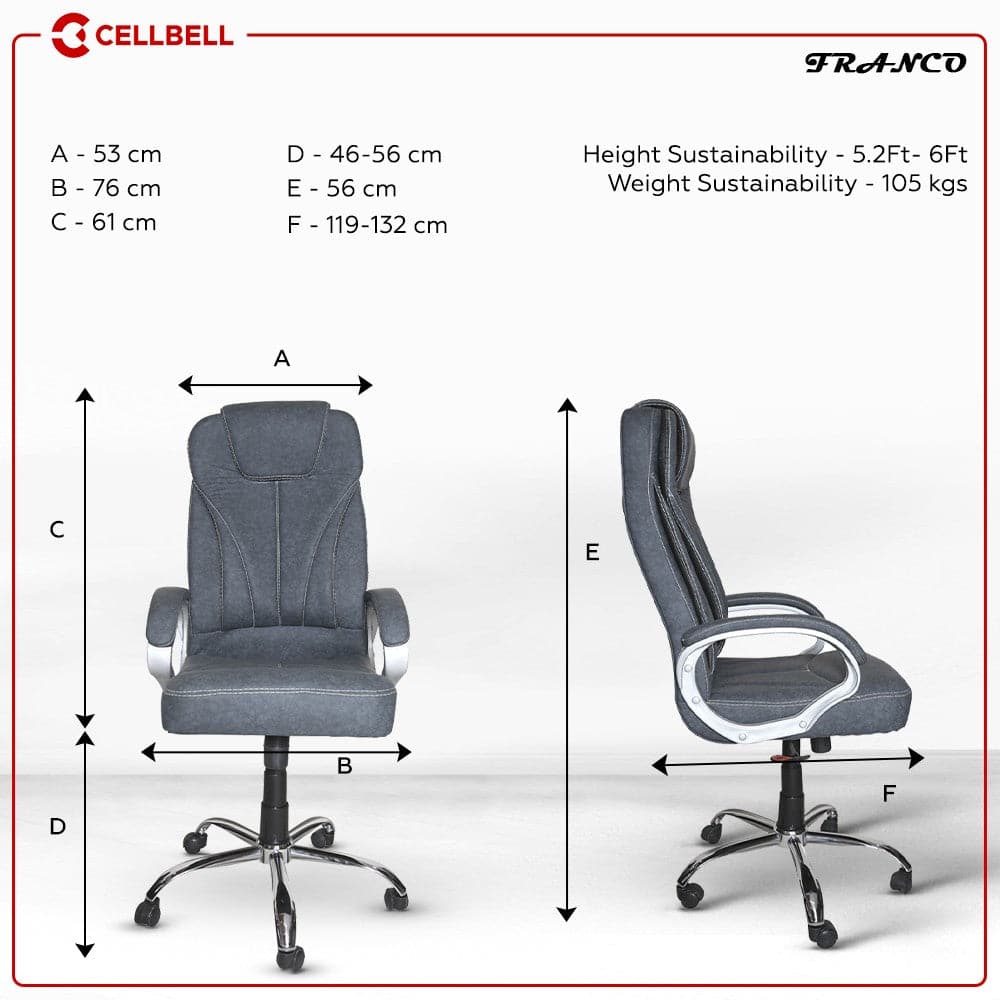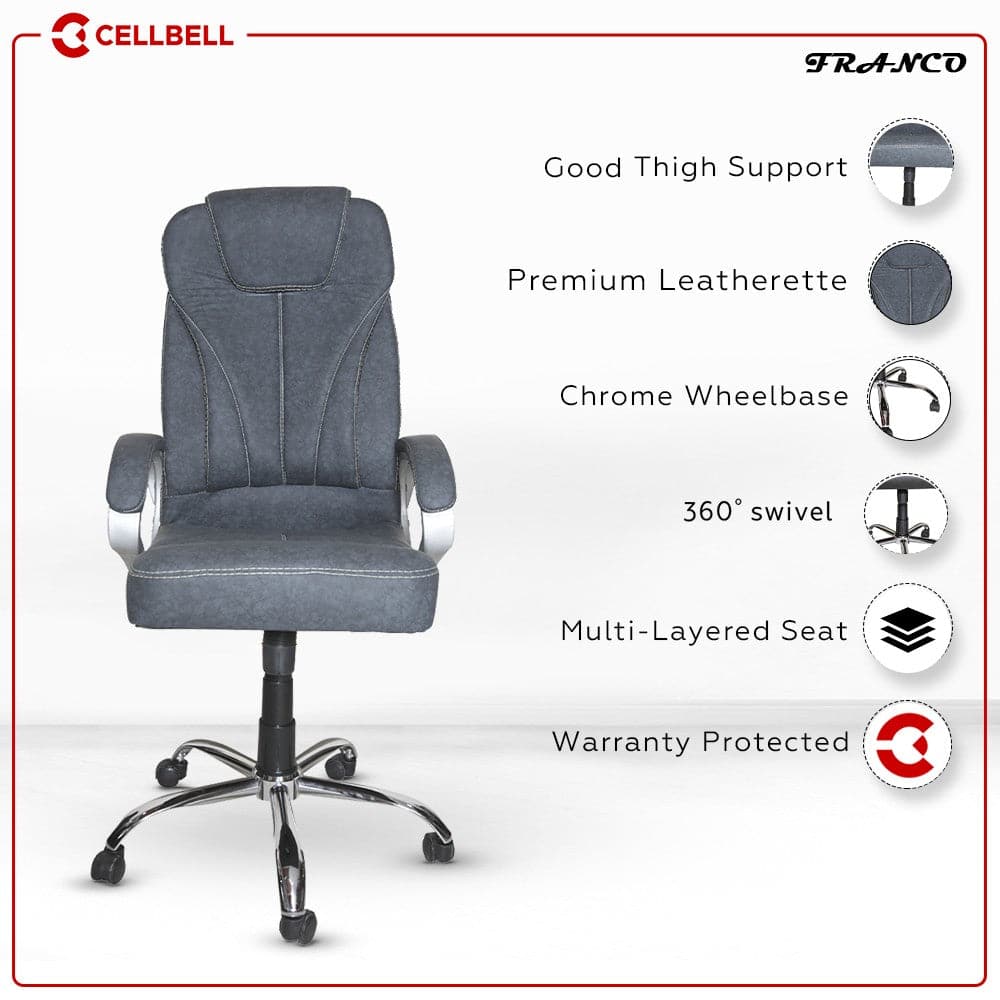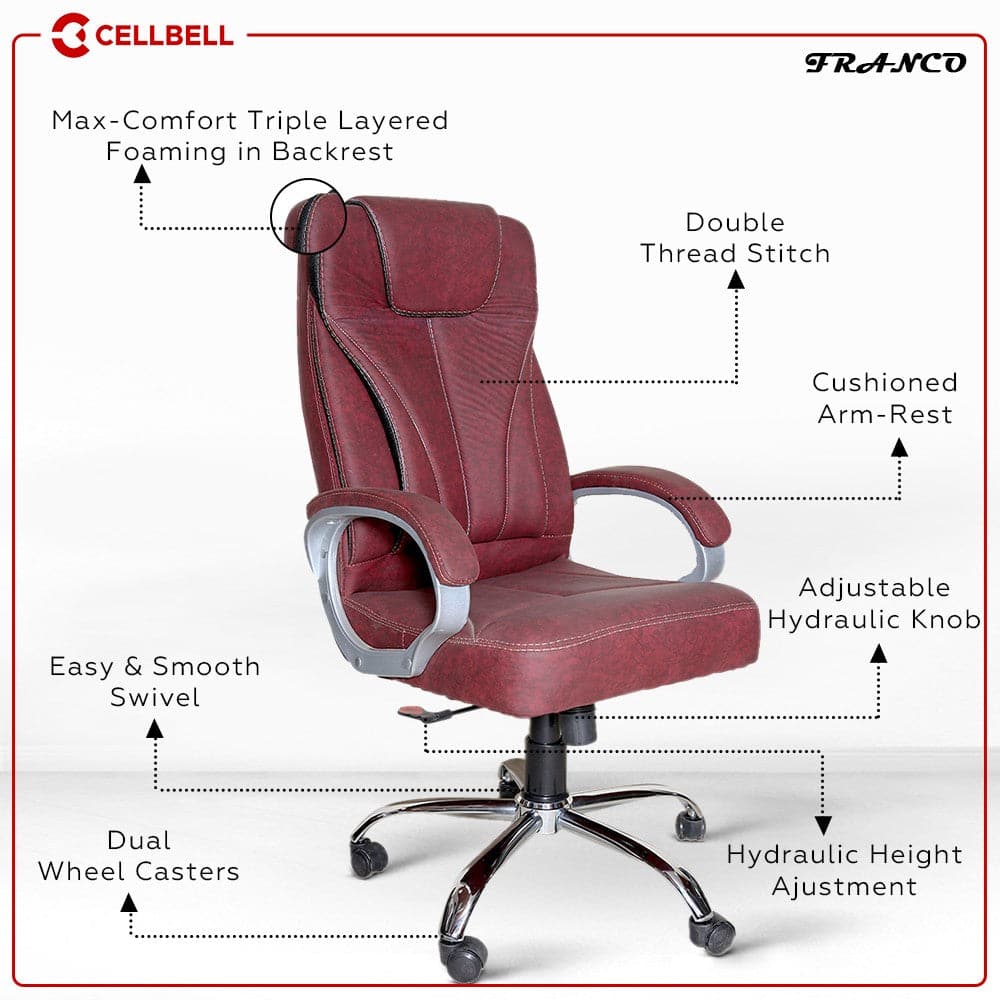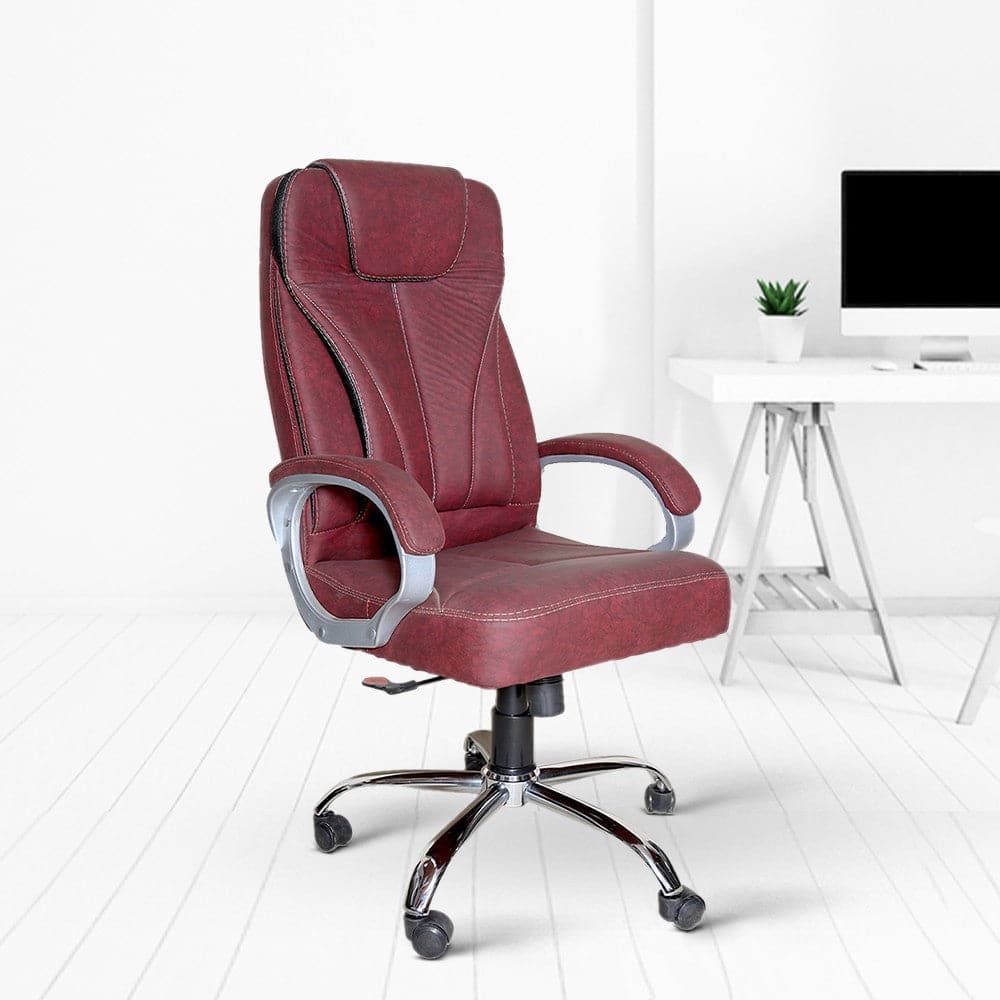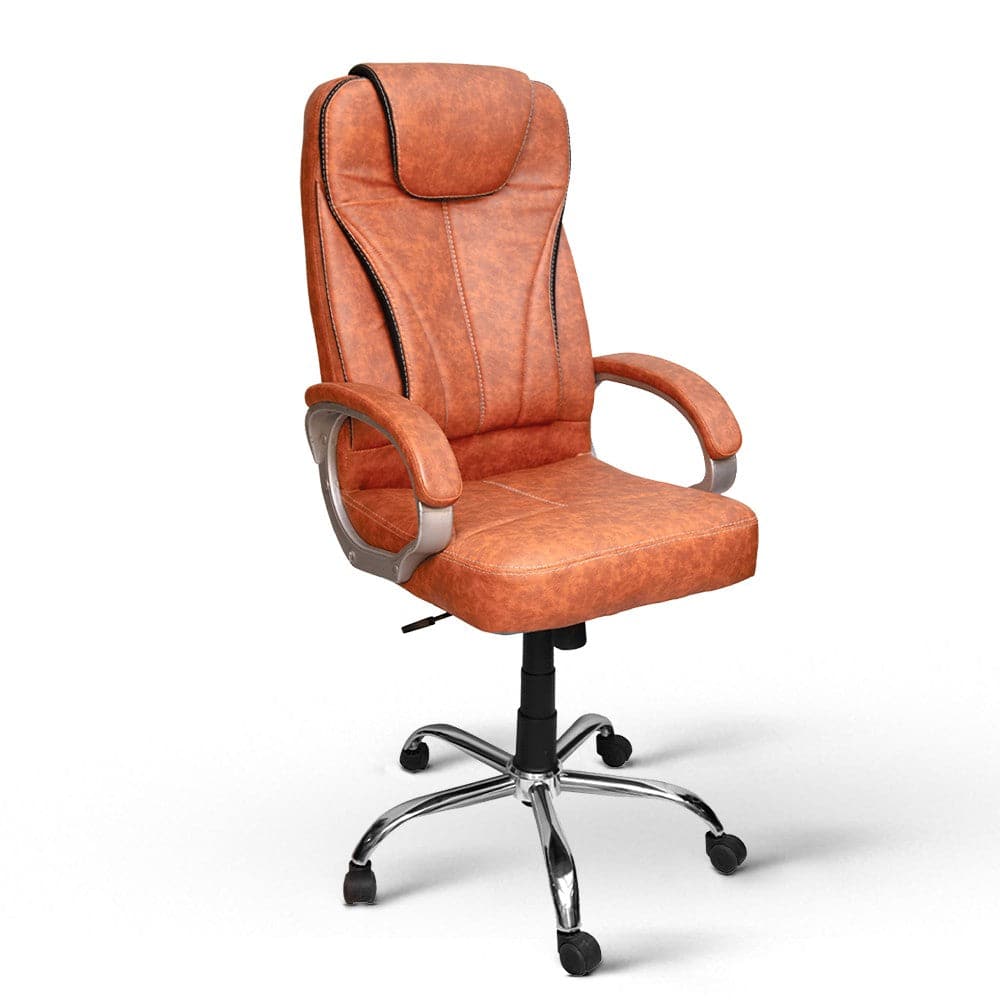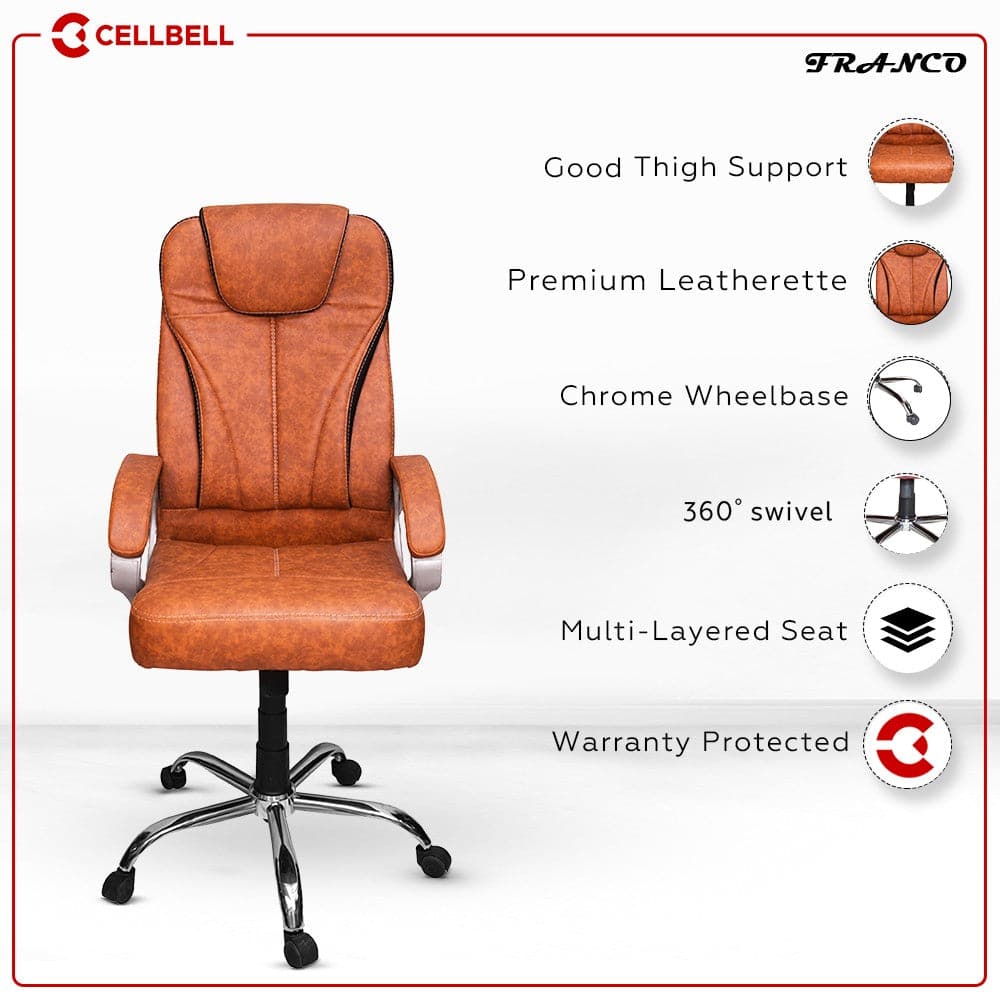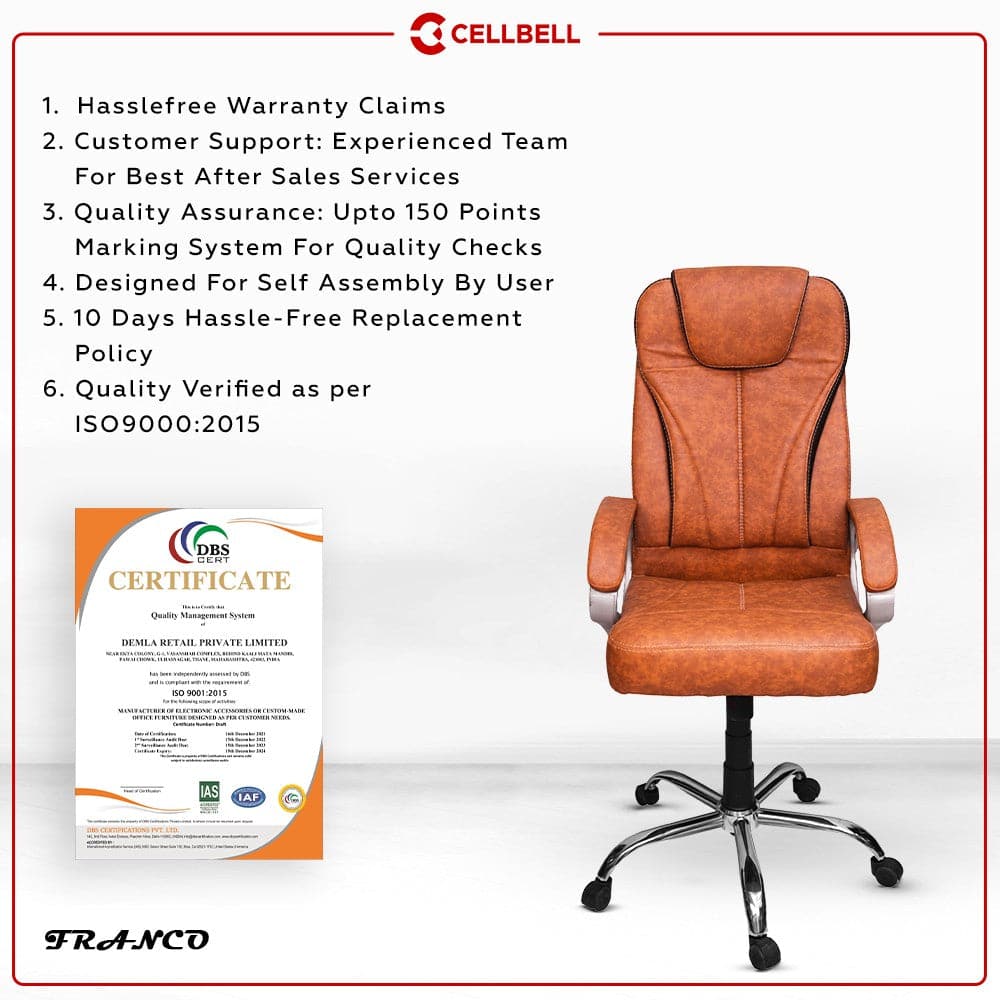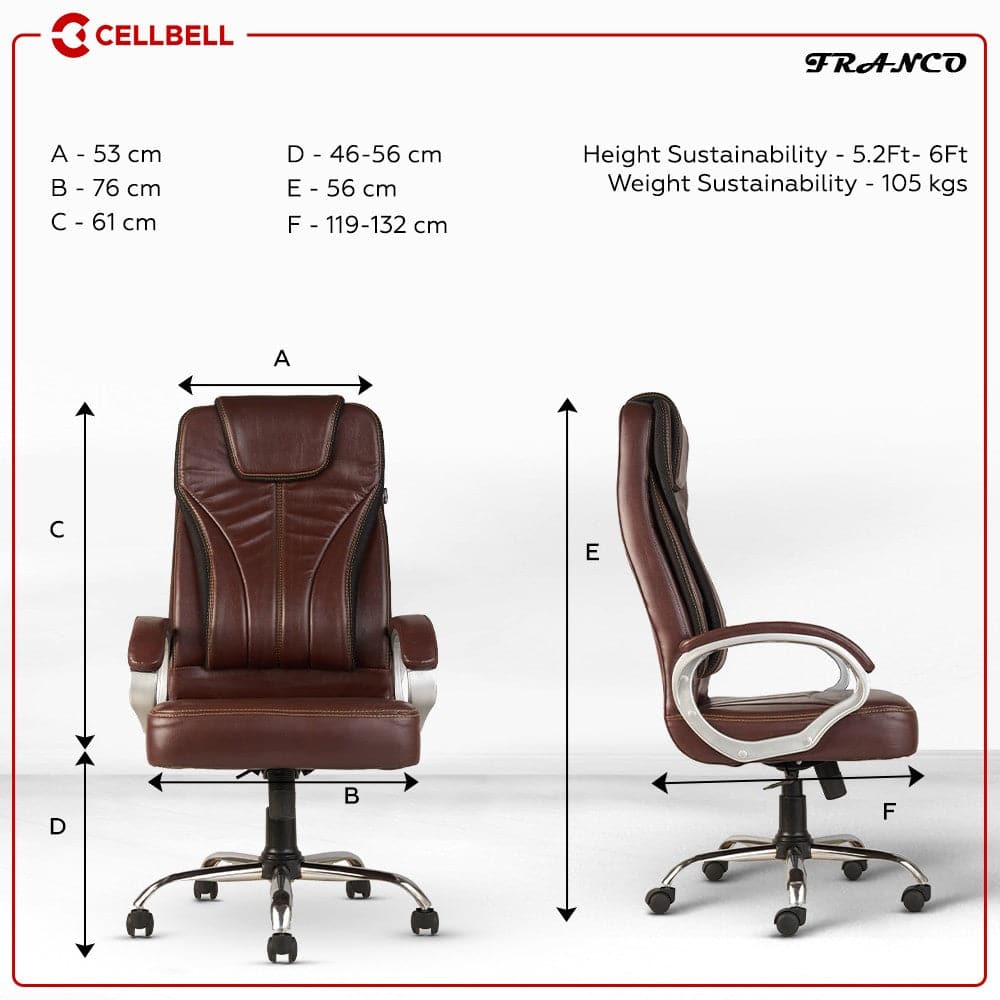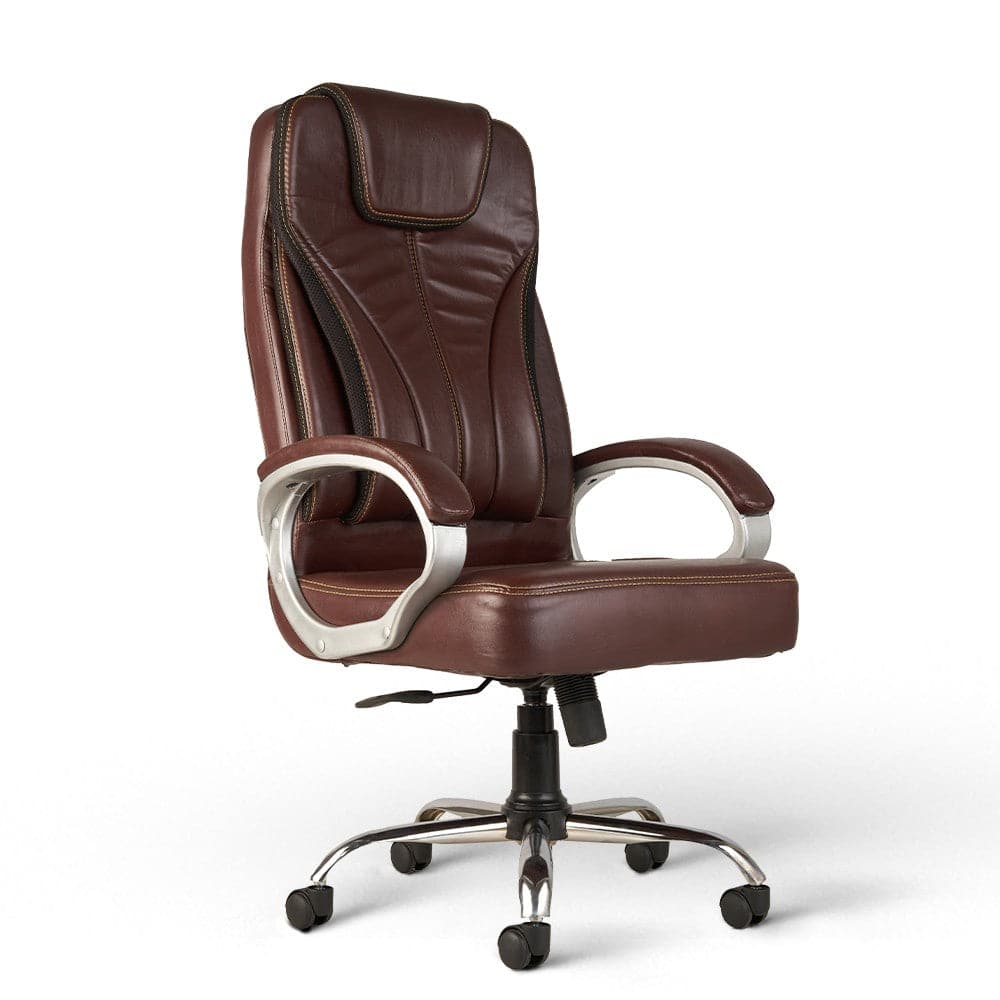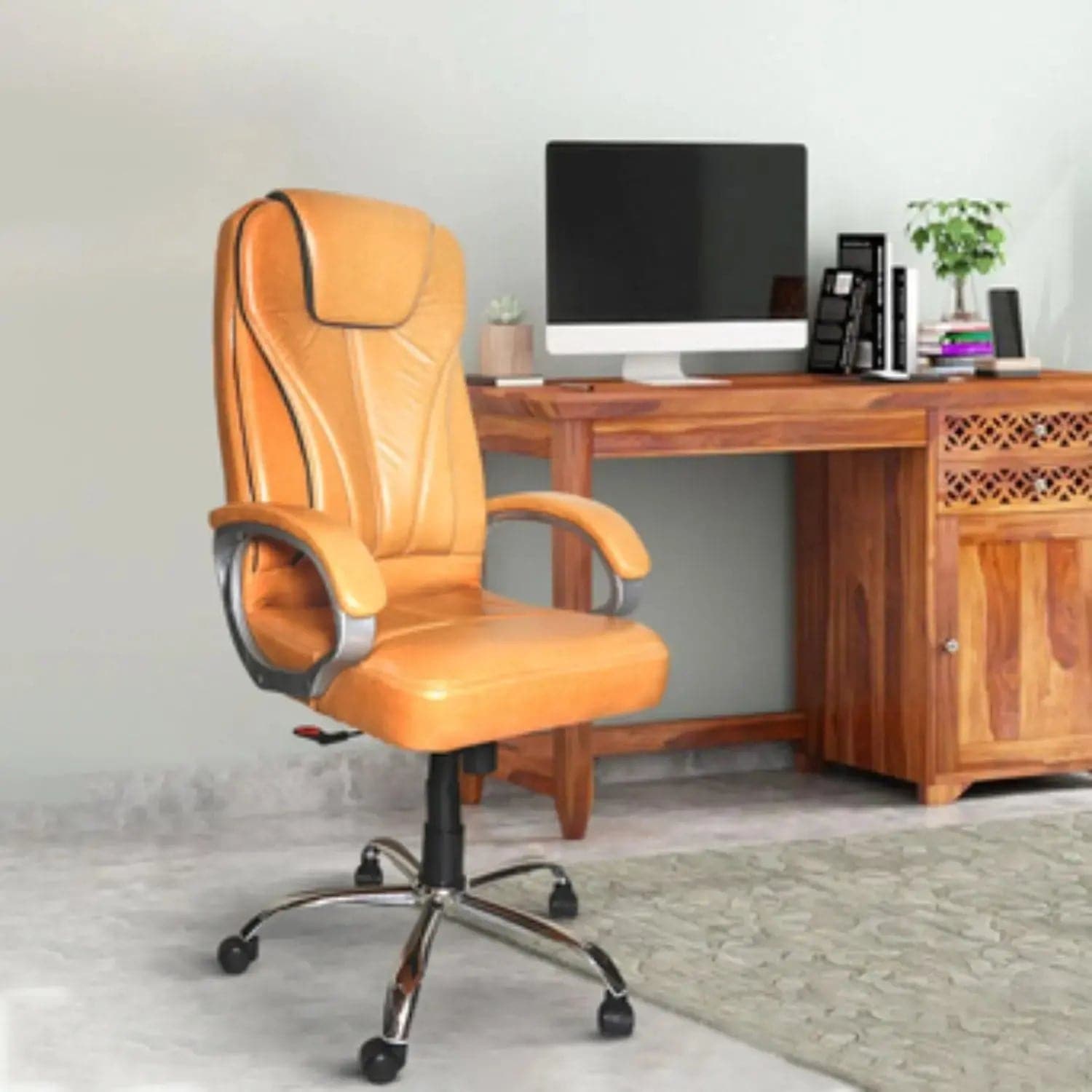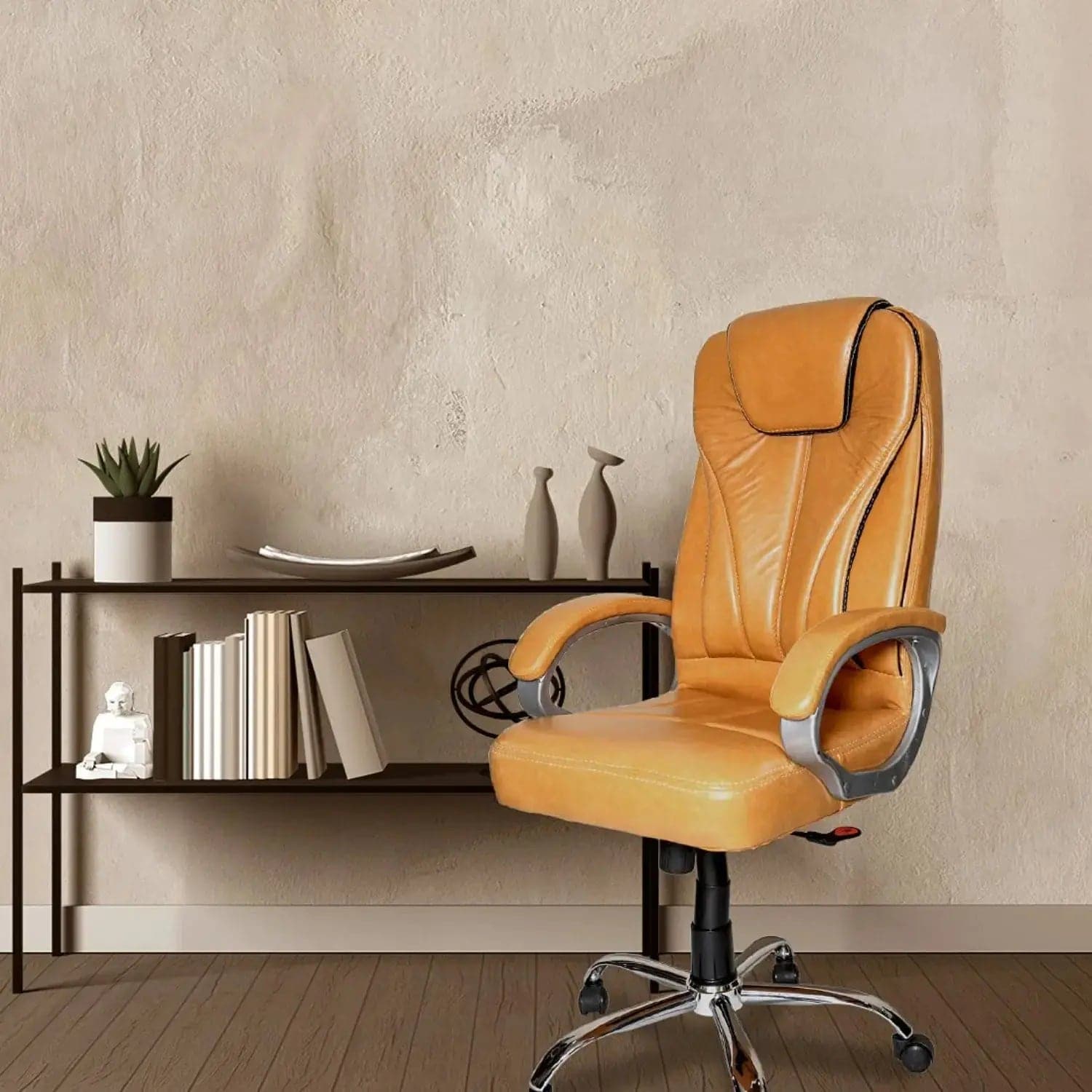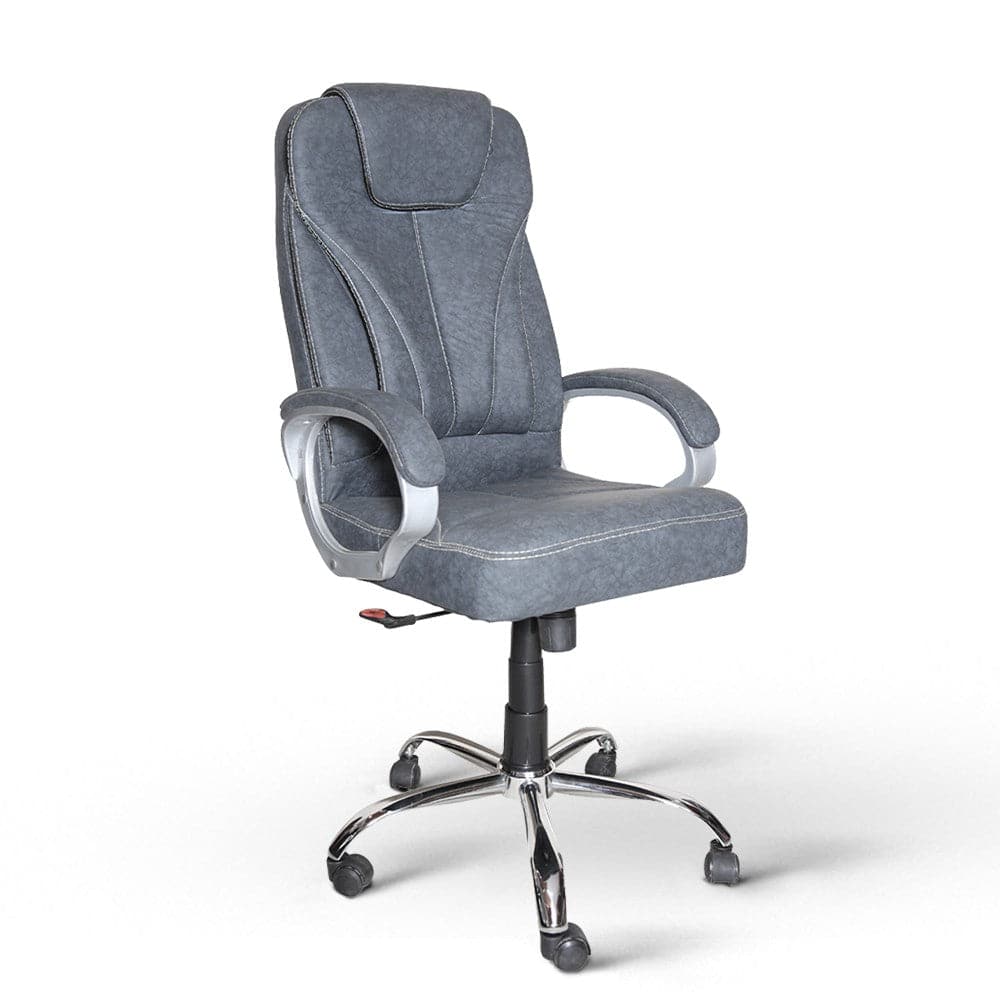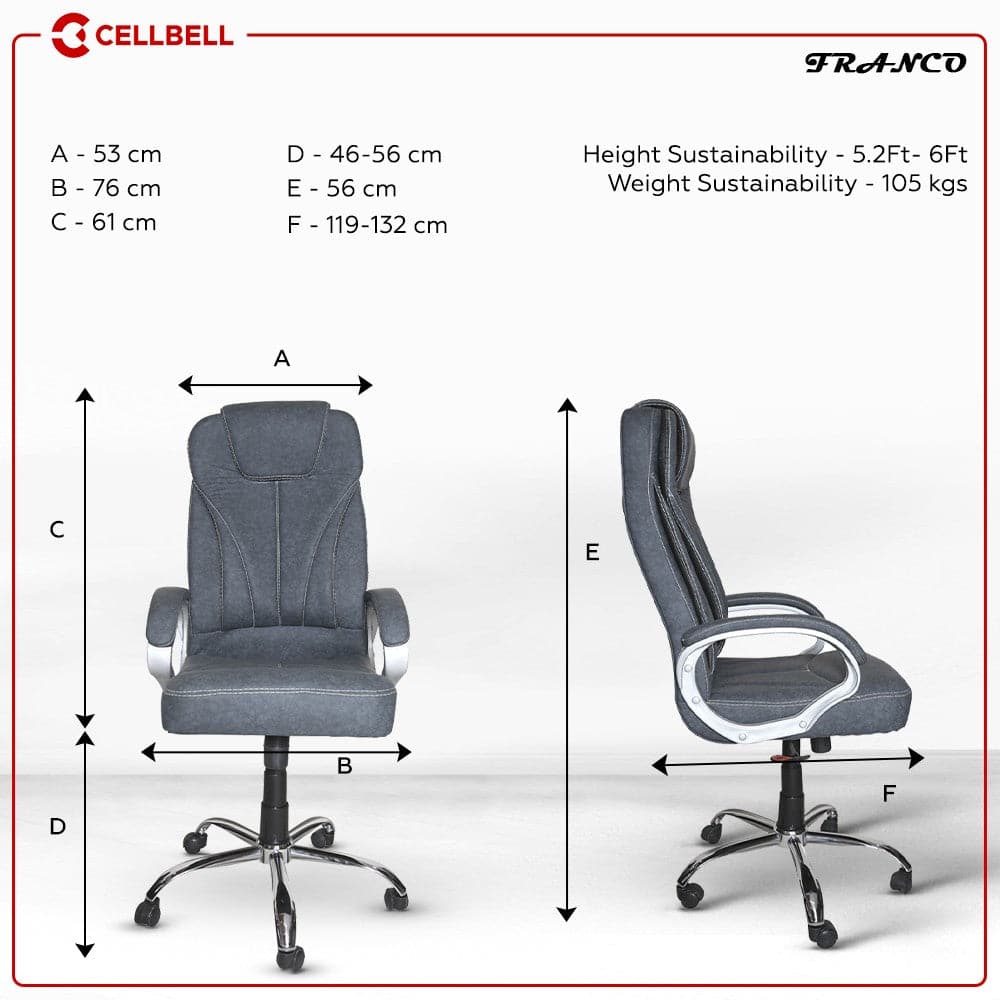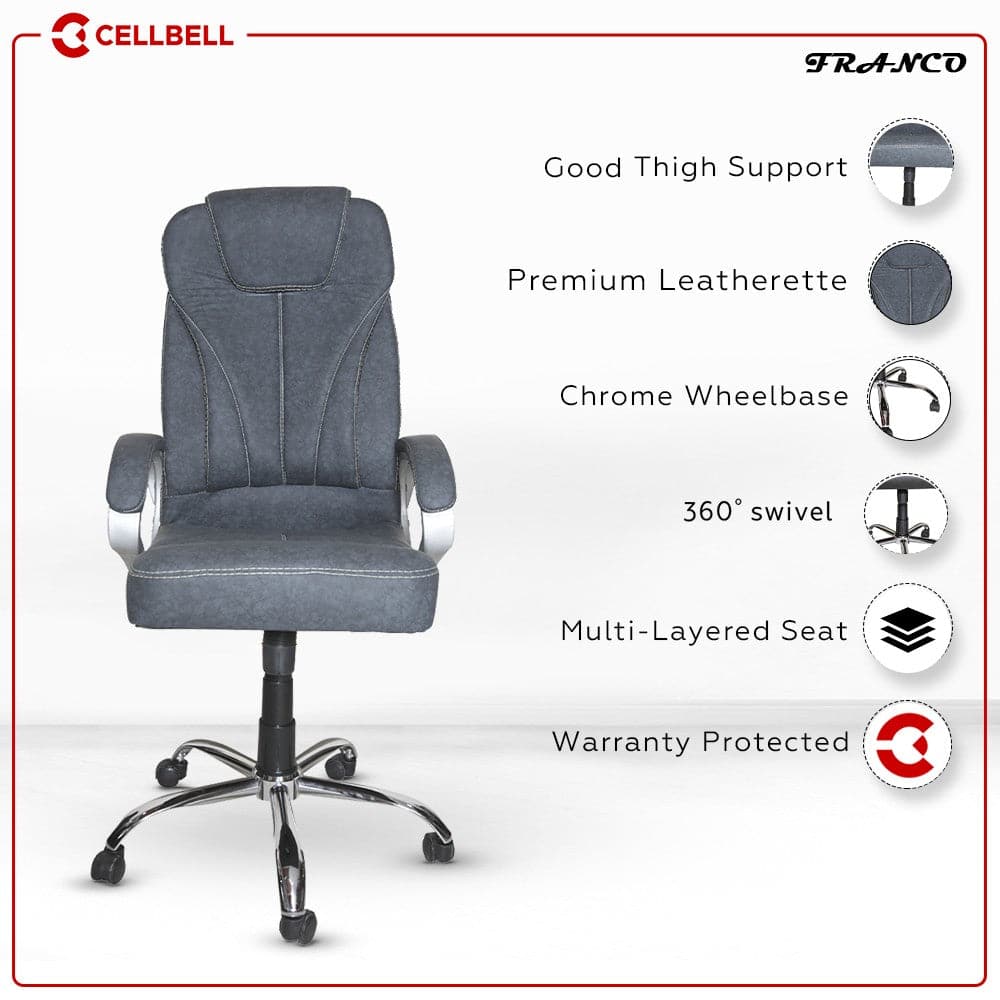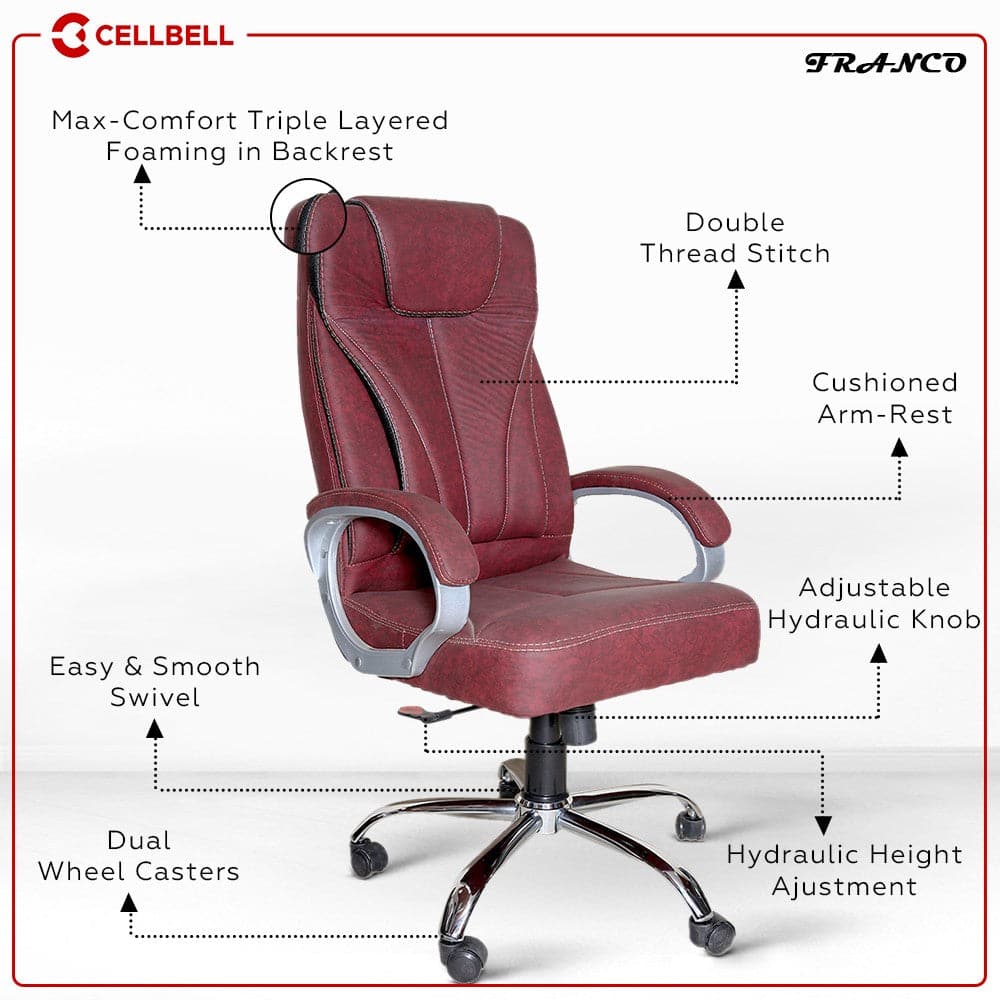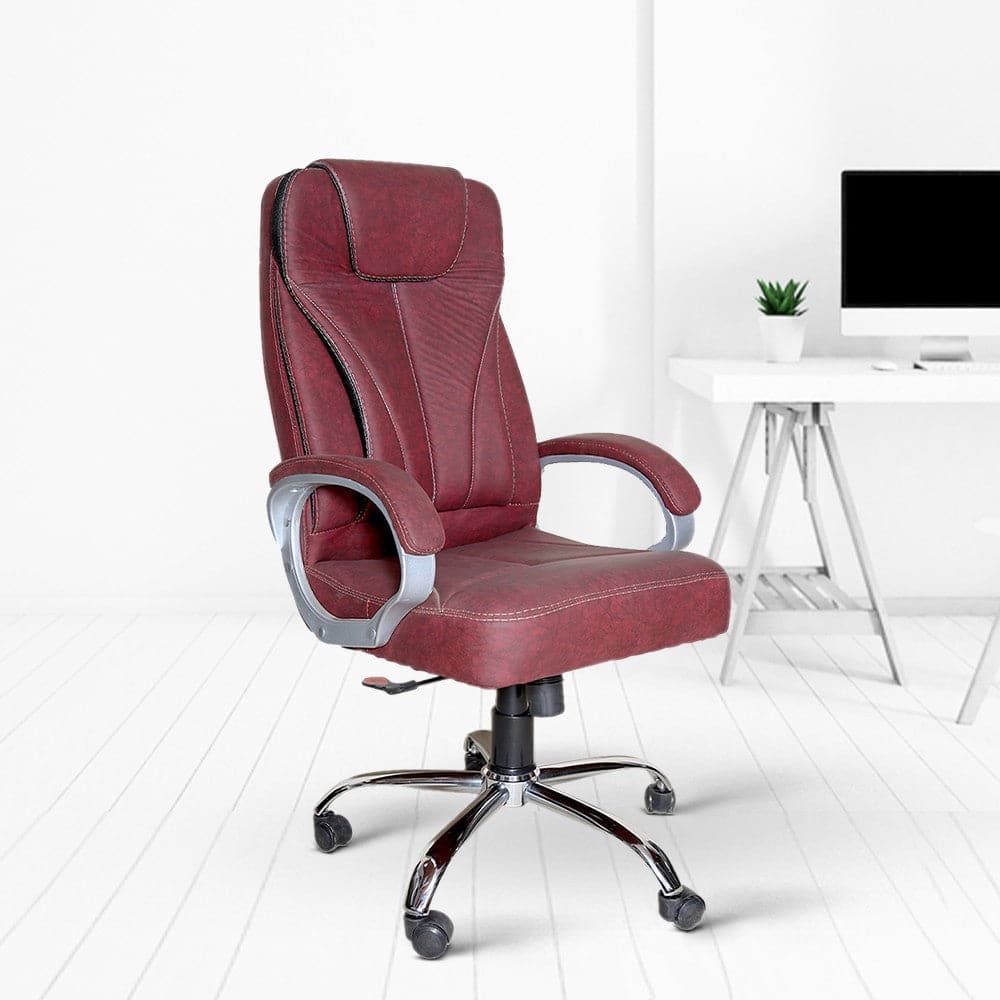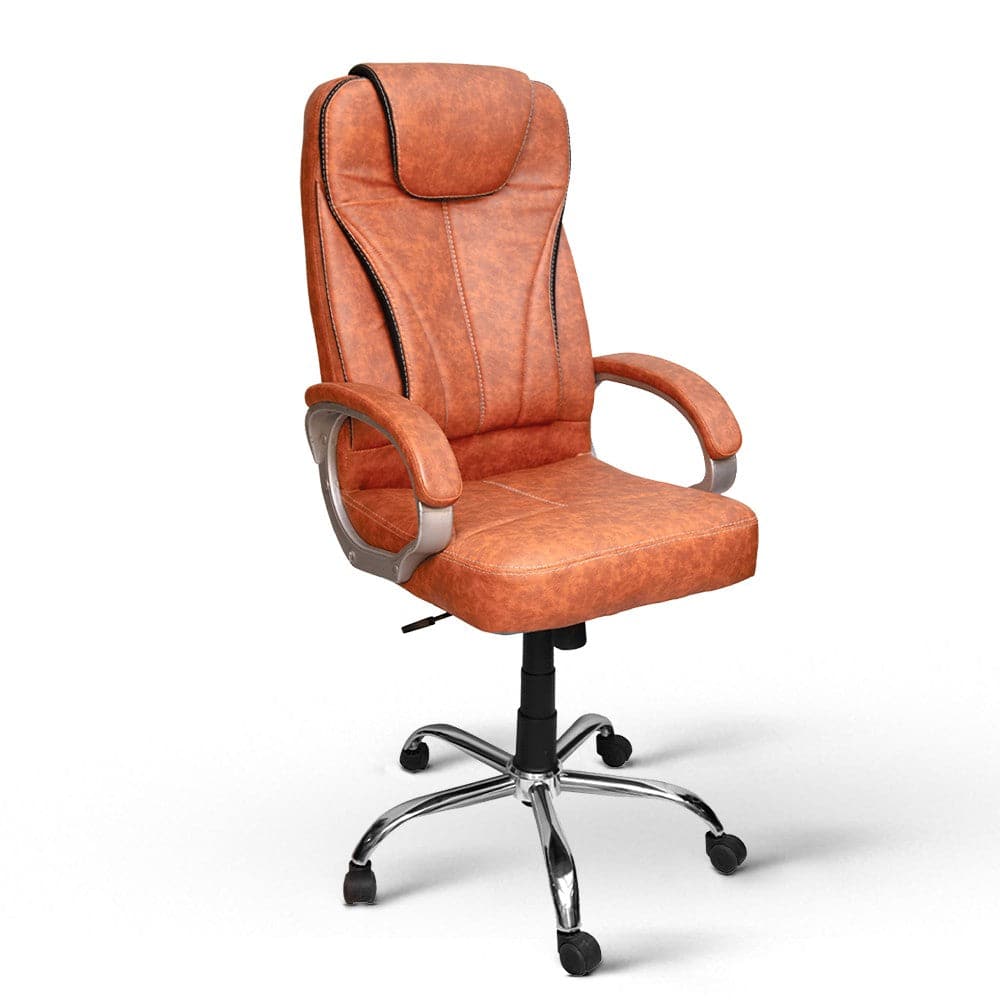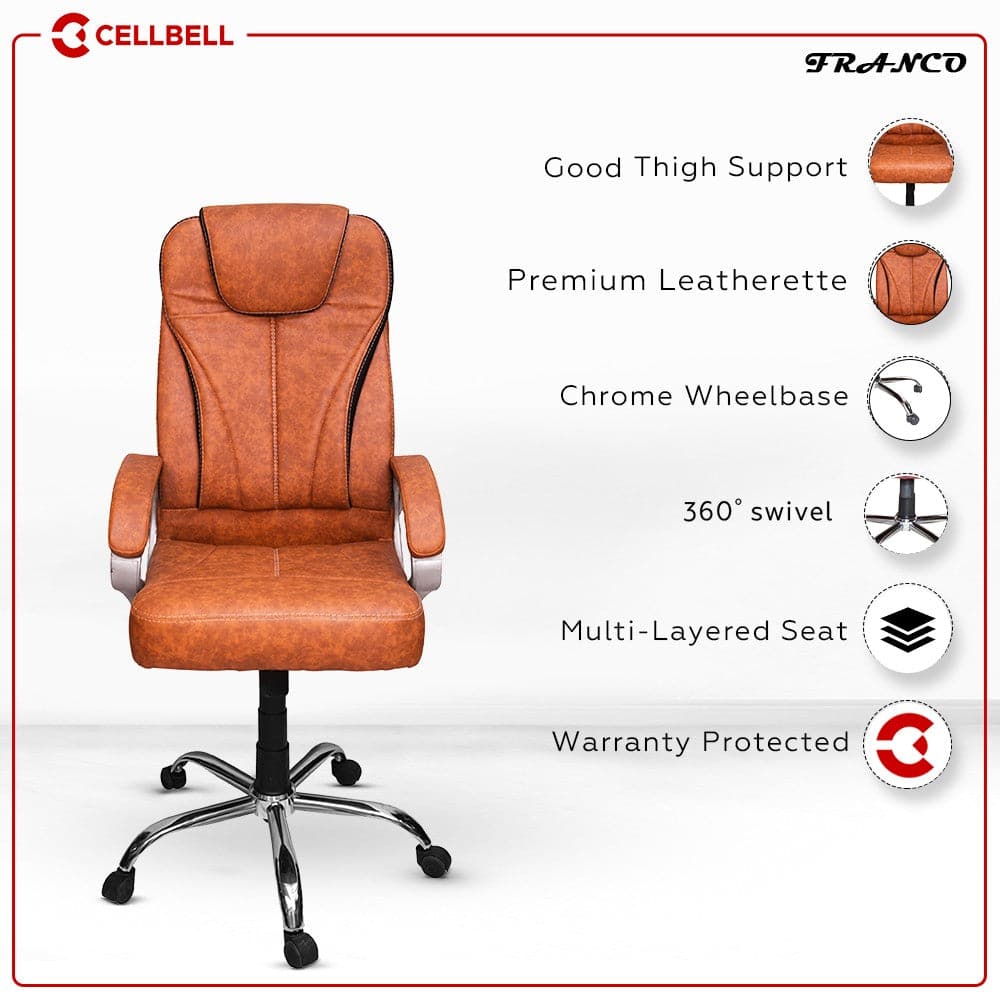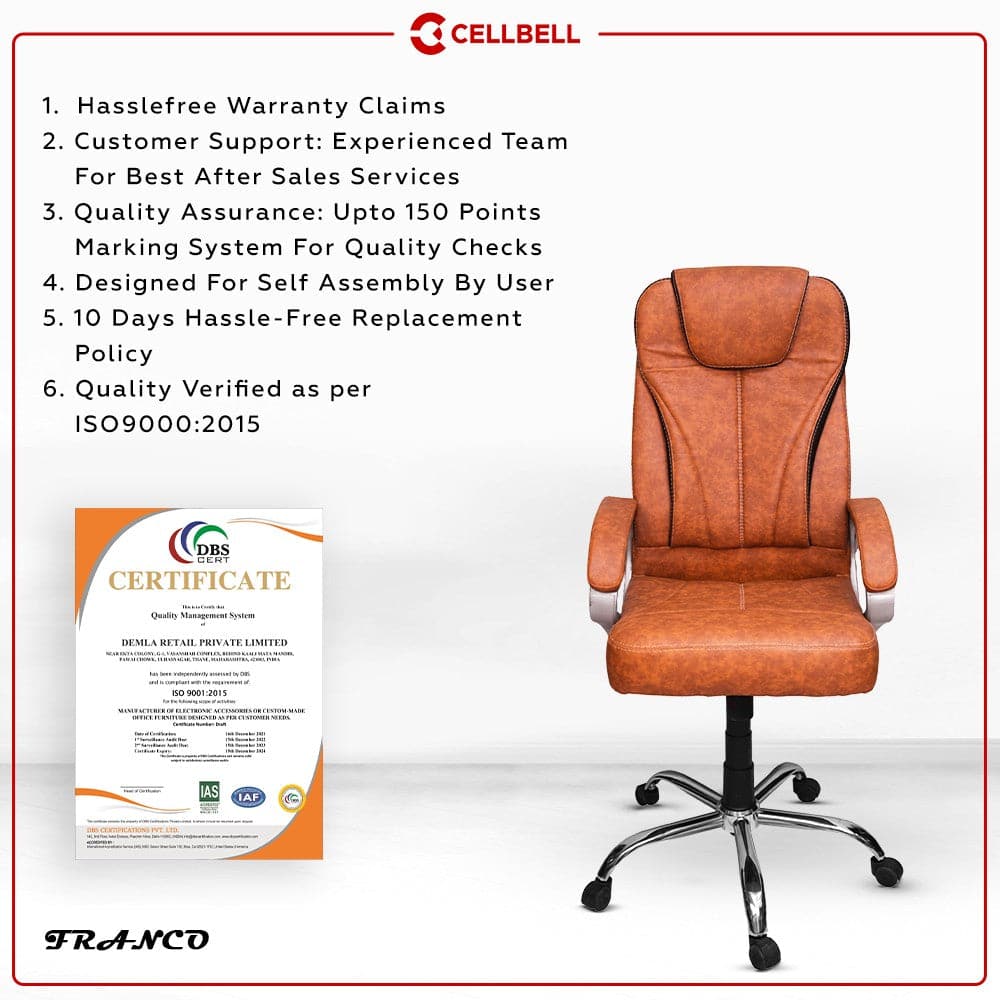 Regular price
Rs. 7,999.00
Sale price
Rs. 7,999.00
Regular price
Rs. 14,999.00
Tax included.
FREE Delivery by:Dec 06 - Dec 10
3% OFF

USE CODE:

THREEFREE

Shop For :

Rs 24,000-RS 49,000
5% OFF

USE CODE:

HIGHFIVE

Shop Above ₹49,999
10% OFF

USE CODE:

NOPAIN

10% Off upto 500 INR
28 people are viewing this right now
Product description
Shipping & Returns
Brand Warranty
CELLBELL Franco is known for its Bossy Design

Franco's 4 inches Backrest and Seat is made for Long Hours working which gives wider space to seat and its 3 Layered Foam adds Max - Comfort
Leatherette Upholstery with Strong Nylon Double Stitch on its Ergonomically Designed Backrest provides Premium feel

Boss definitely deserves a comfort apart from Premium feel, so its Pure Soft Cushioned Arm-rests are so satisfying to lean your elbows

Tilt Mechanism to adjust seat + High Back Chair backrest upto 120 Degrees adjustment
Recommended Weight & Height: 110 Kgs. | 5'8
Mechanism Type: Swivel & Tilt Mechanism
Size: High-back
Product Dimensions: 50D x 53W x 132H Centimeters
Pneumatic Hydraulic with 4 inch seat height adjustment | Wooden Frame | Chair comes with Sturdy Metal Base for extra strength
Gas Lift: Class 4 Hydraulic for smooth height adjustment
Weight Capacity : Up to 105 Kgs
Suitable for Height: 5'2" to 6'2"
DIY : Franco is designed for Self Assembly and easy to install, Demo link can be provided by CELLBELL Customer support Team
Warranty: 3 years manufacturer's warranty | Assembly will be provided by the brand on request, T&C* apply
Get A Note Of Its Features

Thick Padded Seat

Ergonomically Designed

Padded Arm Wrest

Height Adjustable
Quality Material

C51 Chair provides you best in class sitting postures for extra comfort.

Breathable Mesh Back

Built on a strong wooden frame, this office chair has high back padding with an extra layer of foam.

Lumbar Adjustments

The soft cushioned seat and padded arms come together to create a feeling of comfort that you feel reluctant to get off your chair.
We want you to be 100% satisfied with your purchase. Items can be returned or exchanged within 7 days of delivery as per applicable fees as per this policy:
Free Cancellation Period: 45mins from Order placement time, as after that automatically its preparation and shipping label expenses happen at backend to achieve faster on-time fulfillment.
Regular fulfilment hours are: 10 am-2 pm IST, where strictly no cancellations are allowed to ensure system integrity.
Unfulfilled or Un-shipped orders outside fulfilment hours can be self-canceled if cancellation period is still available.
Fulfilled or in-transit orders or orders after Cancellation Time Limit are ineligible for cancellations, if attempted for cancellation then 20% of the order value is a cancellation fee to compensate for its in-transit return and reverse handling expenses and it will be adjusted against the order refund amount.
For any service ordered along with Products is a non-refundable service. In case customer assembles the product after ordering the service and claiming its refund, then such requests are by default unapproved as company gets billed for any service ordered along with products even its physical attempt is pending due to any reason.
Self-cancellation

 

can be done via the account page for unfulfilled orders only and its refund will be automatically reflected in 4-7 days from the cancellation date.
For your information,

 

fulfilled orders are those orders which either in transit or delivered or any status on their route towards the customer.
You can surely contact our customer care

 

which is guided by these standard policies only. support team available via

 

WhatsApp chat.
BRAND WARRANTY ADVANTAGES:

Avail most convenient WhatsApp support (+91-8600366600).
Brand Authorised & verified technicians.
Genuine parts and instructions.
Paperless experience with virtual demo videos.
RiskFree Guarantee - coverage for product damages during service.
Transparency - Visibility into claim status and any add-on charges if applicable.
Free Limited Warranty support for whole coverage period.
First Time is Free as per Limited warranty : specific part replacement, on-site service for age-olds (above 60), Repair, Replacement.
After First Time, it's not Over. customers are eligible for unlimited paid services or spare parts as they need as per availability.
Only one catch here, warranty doesn't give rights to insult or abuse our humans or brand over a call or in-person or on social media, also it may lead to dismissal of all warranty benefits.
All products come with Free Limited Warranty.


What is Limited Warranty?

Limited Warranty such 1 year on Basic chairs and 3 years on Gaming chair, means that some parts of those chairs have that much warranty coverage period, while other parts may have lesser period coverage as per their scope of wear-and-tear in usage period, more details given below.
 

Here is the Limited Warranty Policy details:
Our warranty

 

covers defects in materials

 

and workmanship for a specified period from the date of delivery.
If you experience any issues with the product, we will repair or replace it at our discretion.
We will cover the cost of replacing any faulty parts during the warranty period.
In case a specific part needs replacement and is

 

not covered by the warranty, you can purchase it at a

 

reasonable cost, subject to

 

availability.
We will provide free shipping for replacement parts during the warranty period, along with

 

installation instructions.
Normal wear and tear, including scratches, dents, and fabric/leather changes, are not covered by the warranty.
Damage resulting from improper installation, maintenance, or misuse is not covered.
Any modifications or repairs made without our approval will void the warranty.
We are not responsible for any labor costs incurred during the replacement process, but we can provide technical assistance for

 

a nominal fee.
For warranty claim , you may be asked for product photos or videos as per your case for validation purpose before approvals of your replacements or services.
If you are not satisfied with the product for subjective reasons, such as personal preferences or discomfort without noticeable defects, it is not covered by the warranty.
Limited Warranty Coverage Breakdown:

This detailed chart applies as per Chair Type. To know your chair type, just checkout which category or collection contains your chair from this list:
Collections
CHAIR TYPE
WARRANTY COVERS
COVERAGE PERIOD

Basic chair,
Visitor chair,
Student chair
Bar stool

Seat Foam
1 Year

Executive chair, Boss chair, Gaming chair

Seat Foam

3 Year

Basic chair

Wheel base frame
1 Year

Executive chair, Boss chair, Gaming chair

Wheel base frame

3 Year

Basic chair, Executive chair, Boss chair, Gaming chair

Hydraulic shaft bar
6 months

Basic chair, Executive chair, Boss chair, Gaming chair

Tilt Mechanism
6 months

Basic chair, Executive chair, Boss chair, Gaming chair

Arm-Rest Pair
6 months

Basic chair, Executive chair, Boss chair, Gaming chair

Back-Rest Panel
6 months

Basic chair, Executive chair, Boss chair, Gaming chair

Caster Wheels
6 months

Executive chair, Boss chair, Gaming chair

Head-Rest

6 months

Basic chair, Executive chair, Boss chair, Gaming chair

Fiber or Plastic Casing Accessory covers for Shaft or Wheel Base Top or Side mechanism
1 month

Basic chair, Executive chair, Boss chair, Gaming chair

Support Pillows or Bands
1 month

Basic chair, Executive chair, Boss chair, Gaming chair

Screws, Fitting Allen Key, Bushes, Visor
1 month
Visitor chair,
Bar stool,
Student chair
Support Stand Base
1 Year

Student chair
Wooden plank desk top
1 month


In case, your product part warranty is over as per above chart, then don't worry you are eligible for unlimited parts and services from cellbell at some nominal costs borne by you.

We assure you that we will address any valid issues promptly and provide the necessary support. Our goal is to ensure your satisfaction with our products and services.